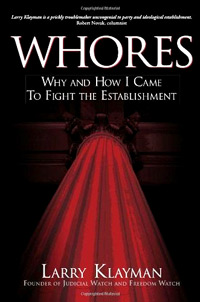 WHORES: Why and How I Came to Fight the Establishment
Larry Klayman describes his efforts to stem abuses in the judiciary and executive branches of our government. He details his legal battles with President and First Lady Bill and Hillary Clinton (Chinagate and Filegate), Vice President Dick Cheney (secret energy commission meetings), and the Bush administration over illegal wiretapping of American citizens.
His portraits of the likes of Janet Reno, Fred Thompson, Arlen Spector, Judge Denny Chin (who recently presided over the Madoff trial), and other Clinton insiders Klayman considers unethical, and who have come back to power in the Obama administration, reveal not always flattering sides of their well-cultivated images.
Above all, Whores is an impassioned plea for reform of our judicial system (with provocative suggestions on how to do it), so that the vision of our Founding Fathers, as enshrined in the Constitution—of a government by the people, for the people—can become a reality once again.
See: