His portraits of the likes of Janet Reno, Fred Thompson, Arlen Spector, Judge Denny Chin (who recently presided over the Madoff trial), and other Clinton insiders Klayman considers unethical, and who have come back to power in the Obama administration, reveal not always flattering sides of their well-cultivated images.
Above all,
Whores
is an impassioned plea for reform of our judicial system (with provocative suggestions on how to do it), so that the vision of our Founding Fathers, as enshrined in the Constitution—of a government by the people,
for
the people—can become a reality once again.
See: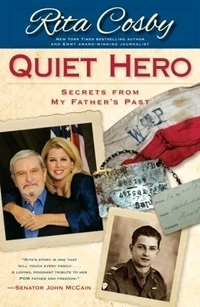 Quiet Hero is also a rare glimpse into the deeply personal story of the effects of war on those who fight and their families. Cosby reveals how her own father became a POW who was saved by US troops. Her father's story is one of sheer courage and patriotism as he battled the Nazis in WWII as a teenage resistance fighter, escaping in the sewers and ultimately weighing only 90 pounds (standing six feet tall) when he was rescued. Cosby's father never discussed his visible and invisible scars until now, and as a result, the journey has caused father and daughter to reunite after decades of estrangement.
Quiet Hero has also become required reading in psychology and social work courses focused on trauma and recovery in several US universities, including NYU and Fordham. Her father received a special commendation from the prestigious Medal of Honor Society for his bravery.
For more information, visit www.quiethero.org.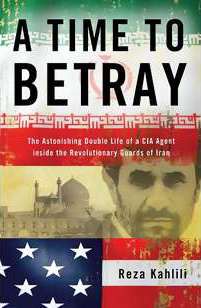 A true story as exhilarating as a great spy thriller, as turbulent as today's headlines from the Middle East,
A Time to Betray
reveals what no other previous CIA operative's memoir possibly could: the inner workings of the notorious Revolutionary Guards of Iran, as witnessed by an Iranian man inside their ranks who spied for the American government. It is a human story, a chronicle of family and friendships torn apart by a terror-mongering regime, and how the adult choices of three childhood mates during the Islamic Republic yielded divisive and tragic fates. And it is the stunningly courageous account of one man's decades-long commitment to lead a shocking double life informing on the beloved country of his birth, a place that once offered the promise of freedom and enlightenment—but instead ruled by murderous violence and spirit-crushing oppression.
For more information, visit www.atimetobetray.com.

Freedom Watch gear
Order Freedom Watch products through Zazzle.com. Proceeds go directly to Freedom Watch and support our fight for liberty and constitutional rights.

Pre-order 'Essays of a Mad Man'
A four-volume compilation of Larry Klayman's writings from 1999-onward, comprising of the Clinton years, the Bush years, the Obama years & the Trump years