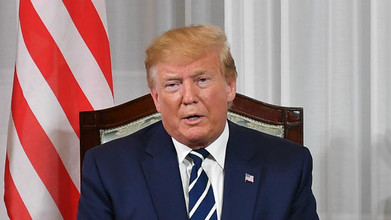 By Justin Wise
TheHill
June 18, 2019
President Trump on Monday dismissed a new poll from Fox News that showed him losing to multiple 2020 Democratic presidential candidates, saying "something weird" is happening at the network favored by conservatives.
.@FoxNews Polls are always bad for me. They were against Crooked Hillary also. Something weird going on at Fox. Our polls show us leading in all 17 Swing States. For the record, I didn't spend 30 hours with @abcnews, but rather a tiny fraction of that. More Fake News @BretBaier — Donald J. Trump (@realDonaldTrump) June 17, 2019
Fox News on Sunday released a poll that showed Trump trailing five Democratic presidential contenders in hypothetical 2020 match-ups. The survey showed former Vice President Joe Biden leading Trump by 10 points.