"Alabama",
'AK' => "Alaska",
'AS' => "American Samoa",
'AZ' => "Arizona",
'AR' => "Arkansas",
'AE' => "Armed Forces Africa",
'AA' => "Armed Forces Americas",
'AE' => "Armed Forces Canada",
'AE' => "Armed Forces Europe",
'AE' => "Armed Forces Middle East",
'AP' => "Armed Forces Pacific",
'CA' => "California",
'CO' => "Colorado",
'CT' => "Connecticut",
'DE' => "Delaware",
'DC' => "District of Columbia",
'FM' => "Federated States of Micronesia",
'FL' => "Florida",
'GA' => "Georgia",
'GU' => "Guam",
'HI' => "Hawaii",
'ID' => "Idaho",
'IL' => "Illinois",
'IN' => "Indiana",
'IA' => "Iowa",
'KS' => "Kansas",
'KY' => "Kentucky",
'LA' => "Louisiana",
'ME' => "Maine",
'MH' => "Marshall Islands",
'MD' => "Maryland",
'MA' => "Massachusetts",
'MI' => "Michigan",
'MN' => "Minnesota",
'MS' => "Mississippi",
'MO' => "Missouri",
'MT' => "Montana",
'NE' => "Nebraska",
'NV' => "Nevada",
'NH' => "New Hampshire",
'NJ' => "New Jersey",
'NM' => "New Mexico",
'NY' => "New York",
'NC' => "North Carolina",
'ND' => "North Dakota",
'MP' => "Northern Mariana Islands",
'OH' => "Ohio",
'OK' => "Oklahoma",
'OR' => "Oregon",
'PW' => "Palau",
'PA' => "Pennsylvania",
'PR' => "Puerto Rico",
'RI' => "Rhode Island",
'SC' => "South Carolina",
'SD' => "South Dakota",
'TN' => "Tennessee",
'TX' => "Texas",
'UT' => "Utah",
'VT' => "Vermont",
'VI' => "Virgin Islands",
'VA' => "Virginia",
'WA' => "Washington",
'WV' => "West Virginia",
'WI' => "Wisconsin",
'WY' => "Wyoming");
function time_ago_mysql($mysql_time)
{
$time = strtotime($mysql_time);
$sec = time() – $time;
$str = null;
if (($num = floor($sec / (365*24*60*60))) > 0) $str = str_replace(' ', ' ', date('M d, Y', $time));
else if (($num = floor($sec / (24*60*60))) > 0) $str = str_replace(' ', ' ', date('M d', $time));
else if (($num = floor($sec / (60*60))) > 0) $str = $num.'h';
else if (($num = floor($sec / 60)) > 0) $str = $num.'m';
else $str = $sec.'s';
return "".$str."";
}
function print_signers($start_id = 0, $meta = false, $no_limit = false)
{
global $states, $my;
$query = mysqli_query($my, 'SELECT id,name,state,comments,created FROM sessions_petition'.(!empty($start_id) ? ' WHERE id >= '.intval($start_id) : null).' ORDER BY id DESC'.(!$no_limit ? ' LIMIT 100' : null));
$last_id = 0;
$str = null;
while ($info = mysqli_fetch_assoc($query))
{
if (!$last_id)
{
$last_id = $info['id'];
}
$info['comments'] = trim($info['comments']);
$str .= "
".$info['id'].". ".htmlentities($info['name'])."
of ".$states[$info['state']]."
\n";
if ($info['comments'])
{
$str .= "
\n";
$COMMENT_MAX = ($no_limit ? 1000 : 300); // NOT number of signers
if (strlen($info['comments']) < $COMMENT_MAX) { $str .= htmlentities($info['comments'])."\n"; } else { $str .= htmlentities(substr($info['comments'], 0, $COMMENT_MAX))."…
(More)".htmlentities(substr($info['comments'], $COMMENT_MAX))."\n";
}
$str .= "
\n";
}
}
if (!empty($meta) && !empty($str))
{
print time()."\t".$last_id."\t";
}
print str_replace("\t", ' ', $str);
if (!$no_limit) print "
\n";
}
if (!empty($_REQUEST['no_body']))
{
if (isset($_REQUEST['signers']))
{
print_signers($_REQUEST['signers'], !empty($_REQUEST['get_meta']));
exit();
}
function do_fwrite($fp, $data)
{
fwrite($fp, $data);
$response = fgets($fp, 256);
/* print "Sending: ".htmlentities($data)."
\n";
print "Response: ";
print htmlentities($response)."
\n";
print "
---
\n";*/
return $response;
}
function mail_remote($from, $to, $subject, $headers, $other_server = false)
{
$nl = "\n";
$host = "fre.freedomwatchusa.org";
$auth_code = 'AGluZm9AbGlzdDQuZnJlZWRvbXdhdGNodXNhLm9yZwBBRFVjZ3U3OA==';
if ($other_server)
{
$host = 'lar.larryklayman.com';
$auth_code = 'AGluZm9AbGlzdDUuZnJlZWRvbXdhdGNodXNhLm9yZwBBRFVjZ3U3OA==';
}
if (!($fp = fsockopen($host, 25, $errno, $errstr, 10)))
{
list($headers1, $headers2) = explode("\n\n", str_replace("\r", ", $headers), 2);
mail($to, $subject, $headers2, $headers1);
}
else
{
fgets($fp, 256); // 220 […]
do_fwrite($fp, "EHLO list.freedomwatchusa.org".$nl);
fgets($fp, 256); // 250-[…]
fgets($fp, 256); // 250-PIPELINING
fgets($fp, 256); // 250-SIZE 102400000
fgets($fp, 256); // 250-VRFY
fgets($fp, 256); // 250-ETRN
fgets($fp, 256); // 250-STARTTLS
fgets($fp, 256); // 250-AUTH PLAIN LOGIN
fgets($fp, 256); // 250-AUTH=PLAIN LOGIN
fgets($fp, 256); // 250-ENHANCEDSTATUSCODES
fgets($fp, 256); // 250-8BITMIME
/*fgets($fp, 256);*/ // 250 DSN
$response = do_fwrite($fp, "AUTH PLAIN ".$auth_code.$nl); // Taken from list4 config
if (!preg_match('/^235 /i', $response))
{
fclose($fp);
$fp = null;
mail($to, $subject, null, $headers);
}
else
{
$data =
"To: ".addslashes($to).$nl.
"Subject: $subject".$nl.
str_replace("\n.", "\n..", $headers)."\n.\n";
do_fwrite($fp, "MAIL FROM: <".$from.">".$nl);
do_fwrite($fp, "RCPT TO: <".$to.">".$nl);
do_fwrite($fp, "DATA".$nl);
do_fwrite($fp, $data);
}
}
}
// Re-send email
if (!empty($_REQUEST['resend']))
{
if (mysqli_num_rows($q = mysqli_query($my, 'SELECT code FROM sessions_petition_pending WHERE email="'.mysqli_escape_string($my, $_REQUEST['resend']).'"'.(!empty($_REQUEST['pending_id']) ? ' AND id="'.mysqli_escape_string($my, $_REQUEST['pending_id']).'"' : null).' LIMIT 1′)) > 0)
{
list($code) = mysqli_fetch_array($q);
$email_from = 'info@list3.freedomwatchusa.org';
$email_to = $_REQUEST['resend'];
$email_headers = str_replace('[CODE]', $code, str_replace('[DATE_SENT]', date('r'), file_get_contents('sessions_petition_email.txt')));
$email_subject = 'Please confirm your signature';
mail_remote($email_from, $email_to, $email_subject, $email_headers, true);
}
die('OK');
}
if ($_REQUEST['email'] == 'rushncap1@yahoo.com') die();
$_REQUEST['email'] = trim($_REQUEST['email']);
if (!preg_match('/^[\'\/a-z0-9.\-_]+@((?:[a-z0-9](?:[a-z0-9\-]*[a-z0-9])?\.)+[a-z0-9](?:[a-z0-9\-]*[a-z0-9])?)$/i', $_REQUEST['email']))
{
die('EMAIL');
}
if (mysqli_num_rows(mysqli_query($my, 'SELECT 1 FROM sessions_petition WHERE name="'.mysqli_escape_string($my, $_REQUEST['name']).'" AND email="'.mysqli_escape_string($my, $_REQUEST['email']).'" LIMIT 1′)) <= 0) { if (mysqli_num_rows($q = mysqli_query($my, 'SELECT id FROM sessions_petition_pending WHERE name="'.mysqli_escape_string($my, $_REQUEST['name']).'" AND email="'.mysqli_escape_string($my, $_REQUEST['email']).'" LIMIT 1')) <= 0) { $send_email = true; if (mysqli_num_rows(mysqli_query($my, 'SELECT 1 FROM uranium_existing WHERE email="'.mysqli_escape_string($my, $_REQUEST['email']).'" LIMIT 1')) > 0)
{
$send_email = false;
}
$values =
'"'.mysqli_escape_string($my, $_REQUEST['name']).'",'.
'"'.mysqli_escape_string($my, $_REQUEST['email']).'",'.
'"'.mysqli_escape_string($my, $_REQUEST['phone']).'",'.
'"'.mysqli_escape_string($my, $_REQUEST['address']).'",'.
'"'.mysqli_escape_string($my, $_REQUEST['city']).'",'.
'"'.mysqli_escape_string($my, $_REQUEST['state']).'",'.
'"'.mysqli_escape_string($my, $_REQUEST['zip']).'",'.
'"'.mysqli_escape_string($my, $_REQUEST['comments']).'",'.
'"'.mysqli_escape_string($my, $_REQUEST['opt_other']).'",'.
'INET_ATON("'.mysqli_escape_string($my, !empty($_REQUEST['ip']) ? $_REQUEST['ip'] : $_SERVER['REMOTE_ADDR']).'"),'.
'NOW()'.
($send_email ? ',"'.mysqli_escape_string($my, $code = strrev(uniqid().'.'.md5(microtime().'xyzzy'.$_SERVER['REMOTE_ADDR']))).'"' : null);
if (!mysqli_query($my, 'INSERT INTO '.($send_email ? 'sessions_petition_pending' : 'sessions_petition').'(name,email,phone,address,city,state,zip,comments,opt_other,ip,created'.($send_email ? ',code' : null).') VALUES('.$values.')')) die('DB'.mysqli_error($my));
$_REQUEST['id'] = mysqli_insert_id($my);
if ($send_email)
{
$email_from = 'info@list3.freedomwatchusa.org';
$email_to = $_REQUEST['email'];
$email_headers = str_replace('[CODE]', $code, str_replace('[DATE_SENT]', date('r'), file_get_contents('sessions_petition_email.txt')));
$email_subject = 'Please confirm your signature';
mail_remote($email_from, $email_to, $email_subject, $email_headers);
}
else
{
$info = $_REQUEST;
// Send to Node.js (COPIED FROM u.php)
$curr_time = time();
$COMMENT_MAX = 300;
if (strlen($info['comments']) < $COMMENT_MAX) { $comments = htmlentities($info['comments'])."\n"; } else { $comments = htmlentities(substr($info['comments'], 0, $COMMENT_MAX))."…
(More)".htmlentities(substr($info['comments'], $COMMENT_MAX))."\n";
}
$post_data = json_encode(array(
'petition' => 'sessions',
'id' => htmlentities($info['id']),
'time' => time(),
'name' => htmlentities($info['name']),
'state' => $states[$info['state']],
'ago' => "0s",
'comments' => $comments));
$cURL = curl_init();
curl_setopt($cURL, CURLOPT_URL, 'http://localhost:2424/');
curl_setopt($cURL, CURLOPT_CUSTOMREQUEST, "POST");
curl_setopt($cURL, CURLOPT_POSTFIELDS, $post_data);
curl_setopt($cURL, CURLOPT_RETURNTRANSFER, true);
curl_setopt($cURL, CURLOPT_HTTPHEADER, array('Content-Type: application/json', 'Content-Length: '.strlen($post_data)));
/* curl_setopt($cURL, CURLOPT_AUTOREFERER, true);
curl_setopt($cURL, CURLOPT_FOLLOWLOCATION, true);
curl_setopt($cURL, CURLOPT_SSL_VERIFYPEER, false);
curl_setopt($cURL, CURLOPT_SSL_VERIFYHOST, 2);
curl_setopt($cURL, CURLOPT_ENCODING, ");*/
curl_setopt($cURL, CURLOPT_TIMEOUT, 3);
$result = curl_exec($cURL);
die('DONE');
}
}
else
{
list($_REQUEST['id']) = mysqli_fetch_array($q);
}
}
else die('DUP');
die('OK'.(!empty($_REQUEST['id']) ? $_REQUEST['id'] : 0));
}
?>
\n";
print_signers(0, false, true);
}
else
{
if (empty($_REQUEST['signed_petition']))
{
?>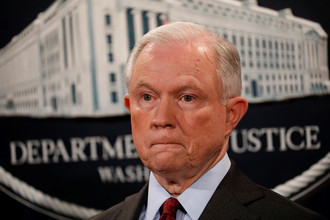 We the People Call on President Trump to
Remove Jeff Sessions as Attorney General
and Replace Him With a Competent Attorney Who Has the Guts to Prosecute Hillary Clinton, James Comey, Robert Mueller, and Others That Were Part of the Corrupt, Even Treasonous, Obama Administration and Hold Them Accountable for Their Crimes!
Sessions'
Incompetence
and "
Disgraceful
" Dereliction of Duty Regarding His Inaction on Fusion GPS, the Phony Steele Dossier, and the Illegal and Unconstitutional Wiretapping of the President and His Associates Disqualify Him From the Office of Attorney General. We Demand He Resign or Be Removed!
Your Name:
Your Email:
Phone Number:
Street Address:
City:
State:
Zip:
Receive Freedom Watch updates
NOTE: A confirmation message will be sent to your email address if you are not already in our system. This is used to verify your petition, which will not be counted until you click the link in the email.
Once you are confirmed, your name and comments will appear publicly below.