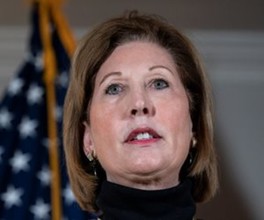 By Sandy Fitzgerald
Newsmax
November 23, 2020
Attorney Sidney Powell, who the Trump campaign said Sunday is not part of the team representing it in legal challenges to the presidential election, has agreed that she does not work for the campaign or for President Donald Trump.
"I agree with the statement today," Powell told The Wall Street Journal in a statement after President Donald Trump's personal attorney Rudy Giuliani announced that she was not part of the team. "I will represent #WeThePeople and seek the Truth. I intend to expose all the fraud and let the chips fall where they may. We will not allow the foundations of this great Republic to be destroyed by abject fraud."
Giuliani Sunday afternoon said in a statement that Powell, who represents the president's former national security adviser Gen. Michael Flynn, is not part of the legal team after she appeared on Newsmax TV Saturday night and alleged massive voter fraud in Georgia.