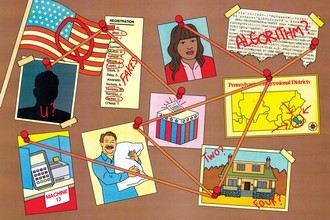 By Andrew Seidman
Inquirer
July 26, 2021
The election wasn't close. Pretty much no one expected Kathy Barnette to win, and there was certainly no shame in losing this one.
But for weeks after an almost 20-point drubbing in a strongly Democratic district in the Philly suburbs, Barnette, the losing Republican candidate, couldn't shake the feeling that it didn't add up.
It started to make sense for her, she recalled, as she was watching TV in late November, about a month after her loss to Democratic Congresswoman Madeleine Dean. Across the country in Arizona, a man was claiming as many as 306,000 "fake people" had voted in that state's election. And he said he had spreadsheets to prove it.