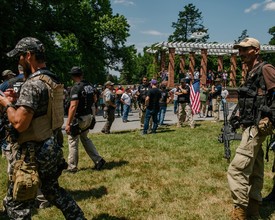 Washington Post
July 5, 2020
GETTYSBURG NATIONAL MILITARY PARK, PA. — For weeks, a mysterious figure on social media talked up plans for antifa protesters to converge on this historical site on Independence Day to burn American flags, an event that seemed at times to border on the farcical.
"Let's get together and burn flags in protest of thugs and animals in blue," the anonymous person behind a Facebook page called Left Behind USA wrote in mid-June. There would be antifa face paint, the person wrote, and organizers would "be giving away free small flags to children to safely throw into the fire."
As word spread, self-proclaimed militias, bikers, skinheads and far-right groups from outside the state issued a call to action, pledging in online videos and posts to come to Gettysburg to protect the Civil War monuments and the nation's flag from desecration. Some said they would bring firearms and use force if necessary.