LARRY KLAYMAN CALLS ON U.S. HOUSE AND DHS TO EXPEL, DEPORT REP. ILHAN OMAR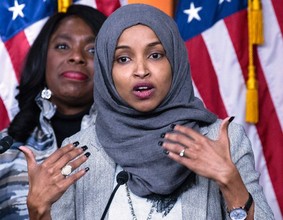 WASHINGTON, D.C., March 5, 2019 /PRNewswire/ -- Larry Klayman, founder of Judicial Watch and Freedom Watch and a former U.S. Department of Justice (DOJ) prosecutor is calling upon the U.S. Department of Homeland Security (DHS) and/or DOJ to investigate anti-Semitic and terrorist-connected freshman U.S. Representative Ilhan Omar (D-MN) for immigration marriage fraud and to initiate deportation proceedings as supported by the factual investigation.
Today, Larry Klayman asked the U.S. House of Representatives to investigate and consider Freedom Watch's petition for deportation while the U.S. House prepares to pass a toothless resolution of disapproval over Rep. Omar's overt anti-Semitic remarks.
Freedom Watch transmitted its Petition Tuesday to Speaker Nancy Pelosi's office and relevant committees. Larry Klayman called upon the House to formally consider these charges. Legally and traditionally, the House judges the qualifications, censure or expulsion of its members.
Rep. Ilhan Omar, from extensive reporting by Minnesota journalists and others such as Laura Loomer, married her own brother in a sham marriage constituting immigration fraud (while still with her first husband). The basis of Omar's citizenship remains murky, yet her own U.S. citizenship could be invalid. The sham marriage certainly invalidates her brother's citizenship and Omar could be prosecuted. Conviction of a crime -- or ties to terrorist organizations -- could also cause Omar to lose U.S. citizenship.
A copy of this petition is at
https://www.wnd.com/files/2019/02/LK-3-Removal-Immigration-Ilhan-Omar-version-4-2-2.pdf
and is embedded below.
Not surprisingly, newly-elected Omar supports an economic boycott of Israel to destroy Israel financially and has reported ties to terrorist groups which seek the total destruction of Israel. Many Democrats are also "hard at work" attacking the legitimacy of Israel, and side with sworn enemies to weaken the U.S.A.'s foreign policy in the world.
Klayman explained: "Rep. Omar's anti-Semitism is not accidental. Omar was safe in the beach resort of Mombasa, Kenya, after fleeing Somalia. Her family was not eligible to leave a safe place in Mombasa to claim refugee status in the United States. Indoctrinated in radical Jihad since a child, Omar's U.S. presence and election are a part of Jihadi infiltration tactics."
Klayman concludes: "Muslims who are legitimately American citizens or permanent residents must be respected so long as they obey the law and do not seek to undermine our country. If Muslims are elected to Congress or other government positions, this also must be respected under our democratic traditions, so long as they do not violate our laws and do not have terrorist connections, such as Omar!"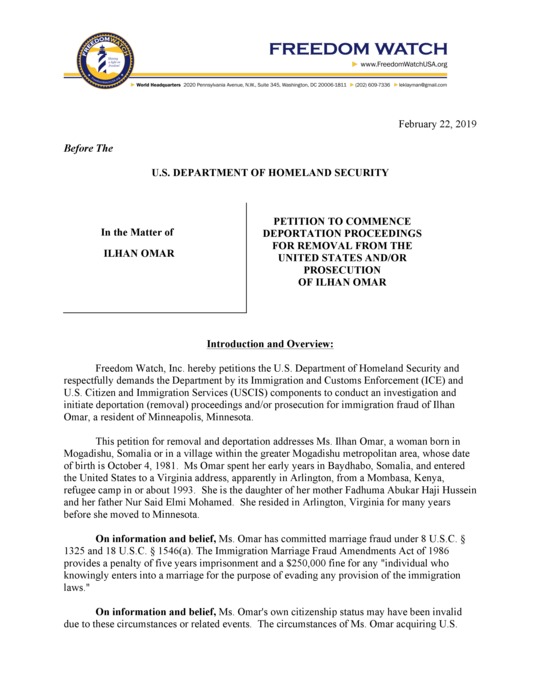 Click to View PDF
Attached:

190305-LK-3-Removal-Immigration-Ilhan-Omar-version-4-2-2.pdf

Your help is urgently needed!
Support our cause and join our fight!