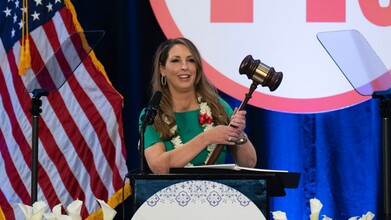 By Paul Steinhauser
Fox News
January 28, 2023
DANA POINT, Calif. — EXCLUSIVE — Republican National Committee chair Ronna McDaniel says that after winning an unprecedented in modern times fourth term as chair of the GOP, there won't be a fifth term in her future.
"This is my last term as chair. I'm saying it on Fox News. It's done," McDaniel declared Friday in an exclusive interview with Fox News.
Minutes earlier, McDaniel won the support of 111 committee members who cast ballots in a secret ballot vote for chair, more than the majority of the 168 members needed to secure re-election. The vote took place on the final day of the RNC's winter meeting, which was held this year at a luxury seaside resort in Southern California's Orange County.