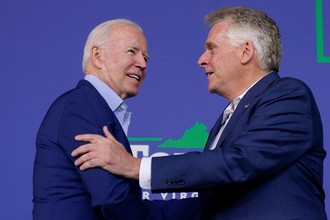 By Christopher Cadelago, Zach Montellaro
POLITICO
October 26, 2021
Joe Biden and Democrats know they won't be able to spin a loss in Virginia. So they're raising the stakes of the election instead.
Biden is back stumping for Terry McAuliffe on Tuesday as he tries to hold off Glenn Youngkin, the Trump-backed Republican, in a bitterly tight race. With the election coming next week, both the president and the Democratic Party are increasingly embracing the notion that it is in large part a referendum on their handling of the pandemic and their support of massive government spending programs — as well as a broader repudiation of the Jan. 6 attacks on the U.S. Capitol.
In doing so, and even with Biden's numbers dropping of late, Democrats are leaning into an approach that past administrations have shunned: freely tying their own fortunes to the outcome of an early, down-ballot race. A win for Youngkin, Biden's aides and allies say, may not scuttle his domestic agenda. But it would be the first domino to fall, foreshadowing potential problems with the party's planned midterm quest to paint Republicans as too extreme to govern.