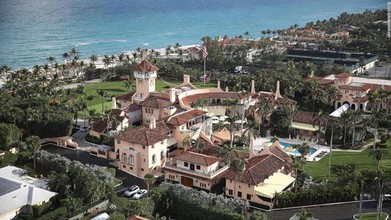 By Kevin Liptak
CNN
January 2, 2021
(CNN)Guests who paid four-figures for tickets to President Donald Trump's annual New Year's Eve party were left to party with his personal attorney Rudy Giuliani, his two adult sons and various figures from the conservative media — none of whom wore masks — after the President made a last-minute decision to ditch the event and return to Washington.
No official explanation for the President's early departure from Mar-a-Lago was given, though he remains consumed with efforts to overturn the election results and tensions are ratcheting up in the Persian Gulf ahead of the one-year anniversary of the US killing of Iran's top general.
Without the President as the centerpiece, the wattage of Thursday evening's party was somewhat dimmer. Performers whose heyday came decades ago — Vanilla Ice and Berlin — performed from the ballroom's main stage. Guests angled for selfies with Giuliani, who was wearing a blue velvet tuxedo jacket, and Fox News host Judge Jeanine Pirro, along with personalities from the right-wing television network OANN.