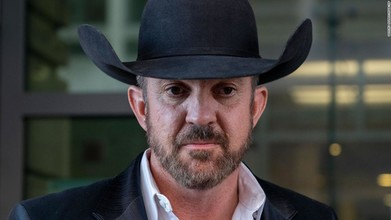 By Holmes Lybrand, Hannah Rabinowitz and Katelyn Polantz
CNN
March 22, 2022
(CNN)A federal judge on Tuesday found Couy Griffin, a founder of Cowboys for Trump and the second January 6 defendant to go on trial as part of the Justice Department's massive prosecution, guilty of trespassing on US Capitol grounds while Vice President Mike Pence was there.
Griffin, a conspiracy theorist who also serves as a county commissioner in New Mexico, was acquitted of a second misdemeanor charge of disorderly and disruptive conduct. Griffin argued that he led others in prayer at the Capitol that day.
Judge Trevor McFadden issued the ruling after a sometimes-contentious bench trial that began Monday and ended midday Tuesday. Griffin faces a potential fine, probation or jail time up to one year after being found guilty of entering and remaining in a restricted area.