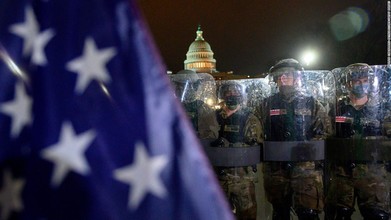 By Hannah Rabinowitz
CNN
December 31, 2021
(CNN)On January 6, rioters streamed past the federal courthouse in Washington, DC, and descended upon the US Capitol. For weeks after the attack, DC's chief judge said she could see National Guard troops from the window in her chambers.
And in the year since the deadly riot, as divisive politics rage and the public becomes more divided about just what happened as Congress was trying to certify Joe Biden's election victory, judges have taken to the bench to remind the country how crucial it is for American democracy that the attack on the Capitol never be repeated.
Some judges are calling out former President Donald Trump — although mostly not by name — for rallying his most ardent supporters to action and suggest that he and his prominent allies bear responsibility for what happened that day. Trump has continued to stoke anger and promote the lie that the 2020 election was stolen since he left office, and many judges have expressed continuing concern that his supporters could be called to act again.