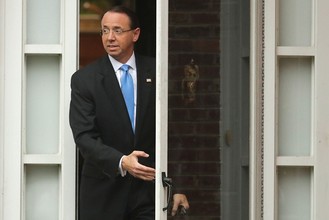 By Matt Zapotosky, Devlin Barrett
Washington Post
September 26, 2018
President Trump said Wednesday he would prefer to keep Rod Rosenstein as his deputy attorney general and that he might postpone a high-stakes meeting set for Thursday to discuss the future of Rosenstein's job.
At a rare news conference, Trump said he and Rosenstein already had a "good talk," and he would "certainly prefer" keeping him in the No. 2 spot at the Justice Department.
"My preference would be to keep him, and let him finish up," Trump said.