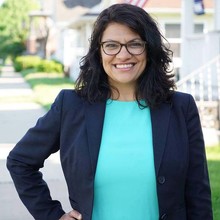 By Elliot Resnick
Jewish Press
August 30, 2019
Laura Loomer — a political firebrand who's running for Congress as a Republican in Florida's 21st congressional district next year — has just sued Rep. Rashida Tlaib for $2 million for allegedly assaulting her at a campaign event last year.
In a video available online, Tlaib is seen grabbing Loomer's phone as she tries asking her if she considers Hamas to be a terrorist organization.
"If you watch the video, she not only grabbed my cell phone, but she actually grabbed my hand," Loomer told The Jewish Press. "That's physical assault." Loomer also says she was shoved.