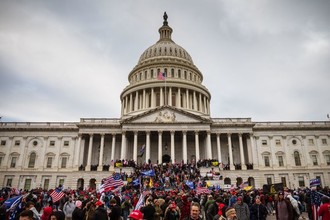 By Hannah Rabinowitz
CNN
September 15, 2022
A conversation between a federal judge and a lawyer for one of the Oath Keepers charged with seditious conspiracy ended in a screaming match on Wednesday, when the lawyer suggested she would argue at trial that her client deleted evidence after the riot because he was directed to by another lawyer.
Juli Haller, who represents Oath Keeper Kelly Meggs, told US District Judge Amit Mehta that she was exploring whether to argue that the Oath Keepers general counsel, Kellye SoRelle, instructed Meggs to delete text messages from his phone after the riot.
Meggs has since been charged with tampering with documents for the alleged act and has pleaded not guilty.
"How is it today, 10 days before trial, I'm first being told you might advance an advice-of-counsel-defense," Mehta shouted at Haller.