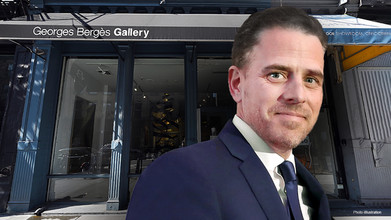 By Lindsay Kornick
Fox News
July 20, 2021
The Washington Post, on Monday, highlighted Hunter Biden's numerous ethical scandals with a full-page of artwork in their op-ed section.
The op-ed promoted a fictional "art exhibition" by Hunter Biden, son of President Joe Biden, that parodied recent scandals. Images within the piece included a framed photo reading "I Heart Burisma," referring to Hunter's time being on the board of the Ukrainian energy company despite his lack of experience in the industry. The feature also included an empty frame titled "Painters Who Would Appear in This Gallery if Not Named Biden."
Washington Post editor Glen Kessler shared the piece on his Twitter account.