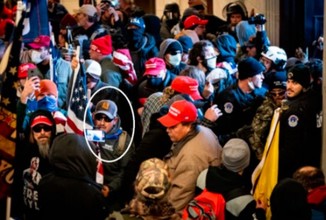 By City News Service
Press Enterprise
September 24, 2022
A 45-year-old man who was among seven people from Riverside County charged in the Jan. 6, 2021, breach of the U.S. Capitol pleaded guilty this week to aiding and abetting in the obstruction of an official proceeding.
Andrew Alan Hernandez of Jurupa Valley admitted the felony count under a plea agreement with the U.S. Attorney's Office, which agreed to drop five related charges in exchange for the admission.
U.S. District Judge Colleen Kollar-Kotelly, in Washington, D.C., scheduled a sentencing hearing for Jan. 27. Hernandez faces a maximum sentence of 20 years in federal prison, though the term of incarceration imposed is likely to be much lower. The defendant remains free on his own recognizance.