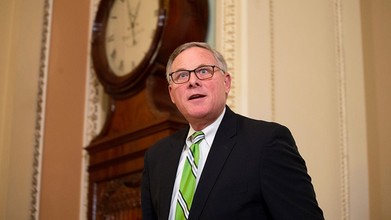 By John Bowden
TheHill
March 30, 2020
The Justice Department is reportedly probing decisions made by at least one lawmaker to sell stock in the days before the market turned downward as a result of the coronavirus outbreak.
CNN reported Sunday that the inquiry, which was launched in cooperation with the Securities and Exchange Commission (SEC), is still in its early stages, according to two people familiar with the matter. However, at least one lawmaker, Sen. Richard Burr (R-N.C.), has been contacted by investigators, according to CNN.
Burr is one of four senators who sold thousands of dollars' worth of stock in the days before the stock market began a historic downturn amid nationwide travel and work restrictions implemented to stop the spread of the coronavirus, as well as reports of jobless claims jumping to historic levels due to the crisis.