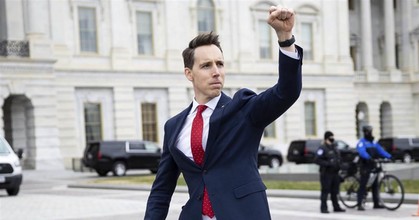 NBC News
January 9, 2021
WASHINGTON — One of his most important early backers now says supporting him "was the worst mistake I ever made in my life," and a top donor called for him to be censured by the Senate.
That's just some of the condemnation that's come Sen. Josh Hawley's way since the Missouri Republican became the first senator to announce he would object to the counting of Electoral College votes and then moved forward with his plan even after a mob of President Donald Trump's supporters had stormed the Capitol on Wednesday.
The largest newspapers in his home state called on him to resign. His publisher canceled its contract with him for an upcoming book. He's been pilloried by both Democrats and Republicans for leading the futile objection effort.