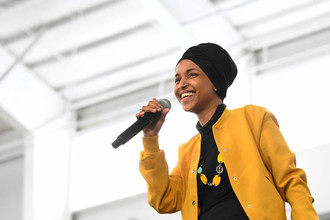 Washington Post
March 14, 2020
Rep. Ilhan Omar's marriage to a political consultant has drawn renewed focus on her campaign's payments to her now-husband and his firm, which are at the center of a pending complaint with the Federal Election Commission.
Omar (D-Minn.) on Wednesday announced on Instagram that she had married Timothy Mynett, and the couple filed their marriage license in Washington that same day.
Following Omar's marriage announcement, conservative critics raised concerns about payments by her campaign to E Street Group, which is run by Mynett.