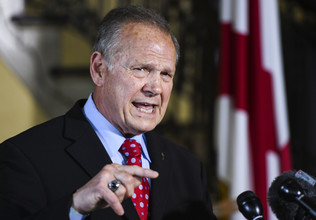 By Paul Gattis
AL.com
February 2, 2022
A jury on Wednesday morning found that neither Roy Moore or Leigh Corfman defamed the other person over claims that Moore had sexually abused Corfman when she was a teen and he was an assistant prosecutor in Etowah County.
The jury issued the ruling after an eight-day trial over a defamation lawsuit filed by Corfman in 2018 and a countersuit filed by Moore.
The jury found that Corfman did not defame Moore with her allegations of sexual abuse and that Moore did not defame Corfman in his public denials of the abuse. The jury deliberated for about three hours before returning the verdict.