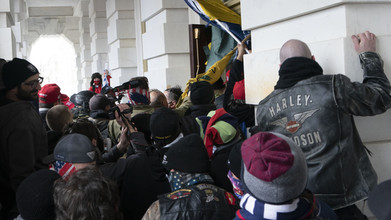 By The Associated Press
NPR
January 22, 2023
A Marine who said he was waiting for "Civil war 2" and two other active-duty members of the military have been charged with participating in the riot at the U.S. Capitol, authorities said in newly filed court papers.
Micah Coomer, Joshua Abate and Dodge Dale Hellonen were arrested this week on misdemeanor charges after their fellow Marines helped investigators identify them in footage among the pro-Trump mob on Jan. 6, 2021, according to court papers.
Dozens of people charged in the riot have military backgrounds, but these three are among only a handful on active duty. A Marine Corps officer seen on camera scuffling with police and helping other members of the mob force their way into the Capitol was charged in 2021.