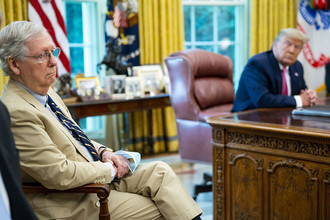 By Meridith McGraw
POLITICO
November 15, 2021
The level of distrust that Mitch McConnell had for then-President Donald Trump in the wake of the deadly Jan. 6 riots on Capitol Hill was greater than previously known.
The then-Senate majority leader sought to have Trump disinvited from Joe Biden's presidential inauguration on Jan. 20, a new book, "Betrayal," by ABC News' chief Washington correspondent Jonathan Karl reveals. According to Karl, McConnell "felt he could not give Trump another opportunity to disrupt the peaceful transfer of power."
McConnell even wanted to have the four congressional leaders write a letter to Trump informing him he had been disinvited, but House Minority Leader Kevin McCarthy (R-Calif.) opposed the idea, Karl reports, "arguing it would be an important message of unity" to have Trump attend.