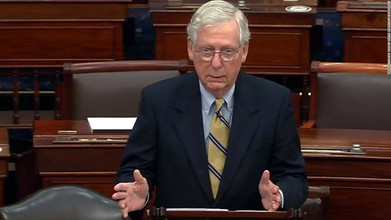 By Manu Raju and Alex Rogers
CNN
March 12, 2021
(CNN)Senate Minority Leader Mitch McConnell is quietly maneuvering to field a slate of GOP Senate candidates in critical battleground states, attempting to avoid a repeat of election cycles a decade ago when candidates emerged from primaries only to implode and deny his party the chance to take back the majority.
This time around, the wily Kentucky Republican has a high-spending super PAC and he's prepared to use it.
With 20 GOP seats to defend — including five open seats where Republican senators are retiring — compared with 14 seats that Democrats have to defend, McConnell is making clear he's not taking any chances. And he's signaling he has little regard as to whether GOP prospects are loyal to former President Donald Trump, who himself is beginning to take an active role in Senate GOP primaries.