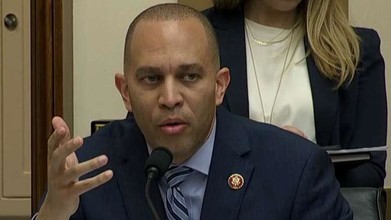 By Adam Shaw
Fox News
May 8, 2019
New York Congressman Hakeem Jeffries, Democratic member of the House Judiciary Committee, defends effort to procure special counsel Robert Mueller's unredacted report on Russian interference in the 2016 presidential election.
A top Democratic lawmaker claimed Wednesday that Special Counsel Robert Mueller's Russia report shows Moscow "artificially" placed President Trump in the White House — despite the report finding no evidence of Trump-Russia collusion.
The statement came amid a fiery session of the House Judiciary Committee where lawmakers weighed holding Attorney General Bill Barr in contempt for defying a subpoena for the full Mueller report.