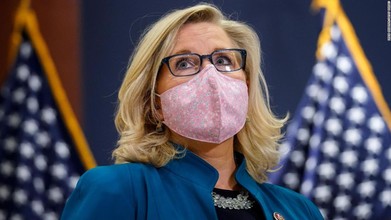 By Analysis by Stephen Collinson
CNN
May 12, 2021
(CNN)Liz Cheney won't move on and stop speaking about the threat to American democracy posed by Donald Trump for a simple reason: It hasn't gone away.
In a short, powerful speech late Tuesday, the lawmaker from Wyoming shamed colleagues who voted hours later to strip her of her No. 3 House GOP leadership post, showing the guts to speak truth to the ex-President's malevolent power that most Republicans lack.
History is likely to remember her remarks far longer than the tortured explanations of Republican power brokers — like Minority Leader Kevin McCarthy of California — as to why she must be purged after pointing out Trump's lies and dangerous authoritarianism.