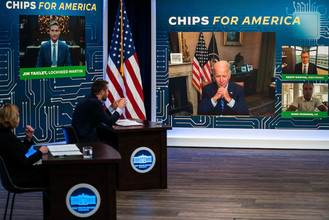 Washington Post
July 26, 2022
The first major prescription drug legislation in nearly 20 years. More than $50 billion to subsidize computer chip manufacturing and research. A bill that would enshrine protection for same-sex marriage.
After a turbulent stretch in which much of President Biden's legislative agenda seemed to be foundering, the president and his party may be on the cusp of significant wins in Congress that the White House hopes will provide at least a modest political boost.
Most politically resonant is a bill to let Medicare negotiate drug prices, a hugely popular idea that Democrats have been pursuing for more than 20 years. It would let Medicare negotiate prices for 10 drugs in 2026 and 10 more in 2029; forbid drug companies from raising prices faster than inflation; and cap Medicare recipients' out-of-pocket costs for prescription drugs at $2,000 a year.