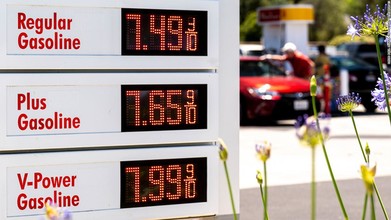 By Nathaniel Meyersohn, CNN Business
CNN
June 15, 2022
New York (CNN Business)As gas prices continue to rise, drivers are angrily glaring up at pump price boards each time they fill up their tanks.
The average national price Tuesday was a little under $5.02 per gallon, according to AAA. Prices are even higher in some states. California had the nation's highest average price of $6.44 a gallon.
But why does the price of a gallon of gas always end in 9/10 of a cent on stations' price boards? No other retailers advertise their prices in fractions of a cent. Pennies are so worthless these days that people even throw them away or leave them on checkout counters rather than keep them in their pockets.