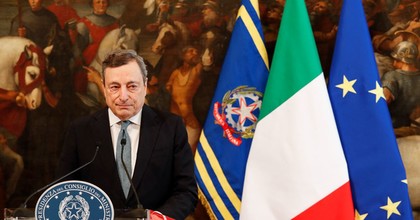 Reuters
February 27, 2022
Italy must reduce its reliance on gas imports from Russia and is ready to take further measures to protect consumers from rising energy prices after the invasion of Ukraine, Prime Minister Mario Draghi said on Friday.
"The events of these days show it was imprudent not to have diversified more our sources of energy and our suppliers in recent decades," Draghi told parliament, noting that Russia now supplied 45% of Italian gas imports, while Italian domestic production had dwindled.
Italy planned to increase imports of liquefied natural gas from the United States, Draghi said, thanking U.S. President Joe Biden for his help in facilitating this.