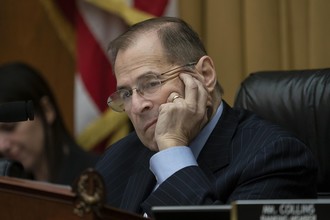 By Bailey Vogt
The Washington Times
May 25, 2019
House Judiciary Committee chairman Rep. Jerrold Nadler is reportedly okay after he fell ill during a New York City press conference with Mayor Bill de Blasio.
Mr. de Blasio stopped his discussion of school zone camera expansion so he and others could offer help to Mr. Nadler as he began to sink forward in his chair.
Video captured by NBC's New York affiliate WRC-TV shows Mr. de Blasio offering water to the congressman. When asked if he was okay, Mr. Nadler said, "no" before covering his face with a hand.