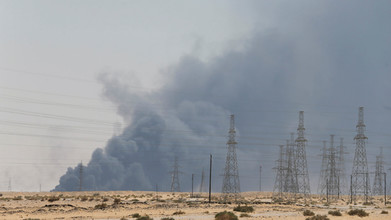 By Bill Chappell
NPR.org
September 17, 2019
U.S. surveillance satellites detected Iran readying drones and missiles at launch sites in Iran before Saudi oil facilities were attacked on Saturday, according to two Defense Department officials.
The imagery has not been publicly released. The officials tell NPR that U.S. intelligence views the activity as "circumstantial evidence" that Iran launched the strike from its own soil.
Saudi Aramco has said the attacks on its plants in Abqaiq and Khurais were "a result of terrorist attacks with projectiles." Iranian-backed Houthi rebels in Yemen claimed responsibility for the attack, but U.S. officials have accused Iran of playing a key role.