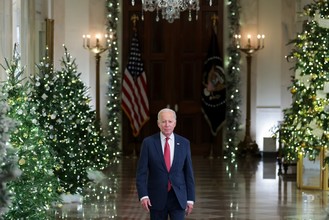 By Toluse Olorunnipa
Washington Post
December 27, 2022
President Biden and his team have begun responding faster and more sharply to provocative comments and actions by former president Donald Trump and his allies, potentially preparing the ground for Biden's expected reelection announcement early next year.
The rapid responses, coming in the weeks since Democrats outperformed expectations in the November midterms, come as some Democratic strategists see a political advantage in pointedly — and frequently — drawing a contrast with Trump, the Republican Party, and the Republican lawmakers poised to take over the House of Representatives.
After Trump hosted two outspoken antisemites for dinner last month, Biden tweeted a blunt condemnation of bigotry, second gentleman Doug Emhoff hosted a summit for Jewish leaders, and the White House launched a new task force to combat antisemitism.