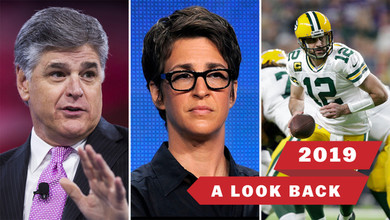 By Nellie Andreeva,Ted Johnson
Deadline
December 28, 2019
Ad-supported cable business' fortunes continue to decline unless it's live programming — news and sports.
Cable news networks Fox News and MSNBC and sports-focused ESPN repeated as 1-2-3 atop all basic cable networks in total viewers in Live+7 Nielsen ratings for 2019. That is all the more impressive because live non-entertainment programming gets very little delayed viewing, and even more important for advertisers who put a premium on ad-supported content where commercials can't be skipped.
Fox News was the top-rated basic cable network among total viewers for a fourth year in a row, with an average of 2.57 million in L+7. In second place was a news network on the other side of the deepening partisan fault line, MSNBC, with 1.80 million, according to Nielsen. CNN notched an average of 1 million.