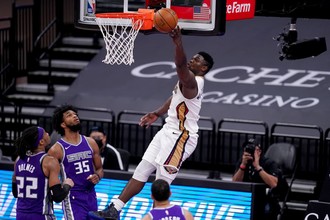 Ball Durham
January 19, 2021
Duke basketball product Zion Williamson produced the best play of the day on Sunday night.
While the world was consumed with the NFL Playoffs, former Duke basketball standout Zion Williamson was dominating the Sacramento Kings on Sunday night.
New Orleans, who had dropped five straight games, entered Sacramento and rode Williamson all the way to the finish en route to a 128-123 victory over the Kings.