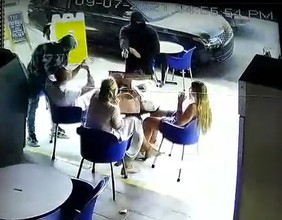 By Louis Casiano
Fox News
September 10, 2021
Diners at a Los Angeles sidewalk cafe were approached by a pair of brazen robbers Tuesday who walked up to them wielding guns in broad daylight along a busy street.
Security footage of the incident shows three patrons dining at the La Creme Cafe on Melrose Avenue around 5 p.m. when two people wearing hoodies and at least one displaying a handgun approach.
One of the suspects appears to check the pockets of one patron while the other rifles through a purse and shopping bags on the table as the visibly shaken diners are seated.