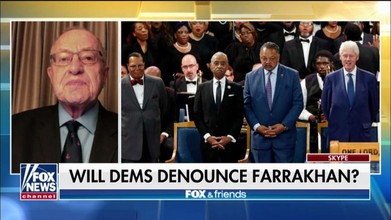 Fox News Insider
October 18, 2018
Harvard Law professor and longtime Democrat Alan Dershowitz blasted Nation of Islam leader Louis Farrakhan Thursday, calling on "all decent people" to condemn him after his most recent anti-Semitic comments.
At an event in Detroit, Farrakhan pushed back on those who say he's anti-Semitic by labeling Jews as "termites."
"So when they talk about Farrakhan, call me a hater, you know what they do, call me an anti-Semite, stop it. I'm anti-termite. I don't know nothing about hating somebody because of their religious preference," he said.