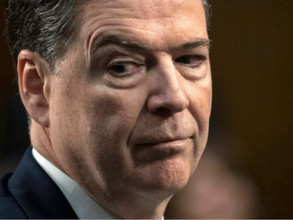 By Tom Fitton
Breitbart
January 18, 2018
U.S. District Judge James E. Boasberg has given us an important victory in our quest for the truth about former FBI Director James Comey and his infamous memos.
Boasberg ruled that the FBI must turn over to the court for in camera, non-public review of Comey's memos allegedly detailing conversations he had with President Donald Trump.
The court, in seeking to review the documents, shows it does not trust the FBI or Justice Department's representations about the memos. We hope now that Americans are one step closer to knowing the facts about these memos, which were written and leaked for pernicious purposes to target a sitting president with a criminal investigation. It's high time they begin to see the light of day. We're glad the court followed up on our specific suggestion that it review the documents directly.