Klayman Files Complaint Alleging Fraud vs. Brenda Snipes in Florida Election
Asks for Emergency Hearing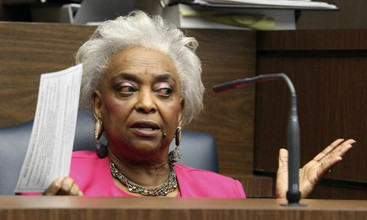 (Broward County, Florida, November 12, 2018). Today, Larry Klayman, a Florida citizen and elector filed a complaint against the Supervisor of Elections of Broward County alleging fraud, misconduct and corruption, as well as denial of access to the inspection of ballots under the Florida Public Records Act, with regard to this latest election scandal in the Sunshine State. The case is styled Klayman v. Snipes, Filing No. 80665290 and was filed in the Circuit Court of the Seventeenth Judicial Circuit for Broward County, Florida. A similar companion complaint will be filed expeditiously in Palm Beach County, where allegedly there is also fraud, misconduct, corruption and denial to ballot access occurring.
Klayman, the founder of both Judicial Watch and Freedom Watch, a former federal prosecutor and U.S. Senate candidate in the Republican primary in 2004, previously participated in his personal and public interest capacity in the famous Gore v. Bush litigation in 2000, appearing before the Honorable N. Sanders Sauls in the litigation which ensued in Leon County.
Klayman had this to say upon filing the complaint:
"I am filing this action and a companion one in Palm Beach Country to preserve and protect the much maligned integrity of the Florida electoral system. A copy of the complaint can be found at
www.larryklayman.com
and
www.freedomwatchusa.org
and is embedded below. It is important for a non-partisan, such as myself, to play a role in this regrettable new voter scandal, and not leave it to the lawyers for the Republican and Democrat parties to manipulate the outcomes of the state gubernatorial and U.S. Senate elections.
"As a proud citizen of Florida, I want to see that the person who really won the election actually did win! Regrettably, given the history of Broward County Supervisor of Elections Brenda Snipes, there is more than a possibility that unless legal action is quickly taken, that the votes of Florida voters, including myself, will be subverted to corrupt political interests."
For more information, contact daj142182@gmail.com or (424) 274 2579.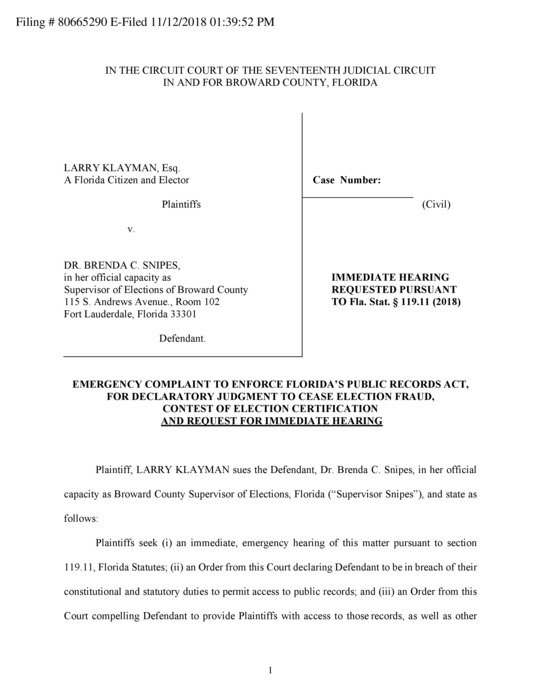 Click to View PDF
See also: "What I'm Doing to Bring Justice to Florida Count," by Larry Klayman
Attached:

Complaint

Civil Cover Sheet
---
URGENT: Please Sign These Petitions to Remove Mueller and Sessions and to Have Klayman Appointed as Special Counsel to Investigate the Clintons and Finally Bring Criminal Charges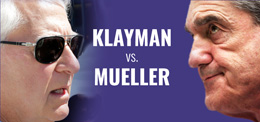 Sign Our Petition to Remove Robert Mueller as Special Counsel
We the People Call On President Trump to
Remove Robert Mueller
as Special Counsel and to Appoint
Larry Klayman
to Investigate the Clinton Email, Uranium One, and Fusion GPS Scandals! We Also Support Freedom Watch's
Lawsuit to Remove Mueller
Sign Now!
---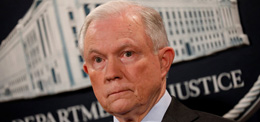 Sign Our Petition to Remove Jeff Sessions as U.S. Attorney General
We the People Call on President Trump to
Remove Jeff Sessions as Attorney General
and Replace Him With a Competent Attorney Who Has the Guts to Prosecute Hillary Clinton, James Comey, Robert Mueller, and Others That Were Part of the Corrupt, Even Treasonous, Obama Administration and Hold Them Accountable for Their Crimes!
Sessions'
Incompetence
and "
Disgraceful
" Dereliction of Duty Regarding His Inaction on Fusion GPS, the Phony Steele Dossier, and the Illegal and Unconstitutional Wiretapping of the President and His Associates Disqualify Him From the Office of Attorney General. We Demand He Resign or Be Removed!
Sign Now!

Your help is urgently needed!
Support our cause and join our fight!