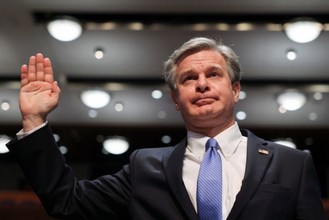 By Jan Wolfe
US News
June 11, 2021
WASHINGTON (Reuters) – FBI Director Chris Wray on Thursday suggested "serious charges" are still coming in the criminal investigation of the deadly Jan. 6 attack on the U.S. Capitol by supporters of former President Donald Trump.
"This is a very ongoing investigation and there's a lot more to come," Wray said during an oversight hearing held by the House of Representatives Judiciary Committee. "I would expect to see more charges — some of them maybe more serious charges."
Wray testified that the FBI considered the attack an act of "domestic terrorism." He said he understands why Democratic lawmakers have called the attack an "insurrection," but said it would not be appropriate for him to use that word because of the effect it could have on pending criminal cases.