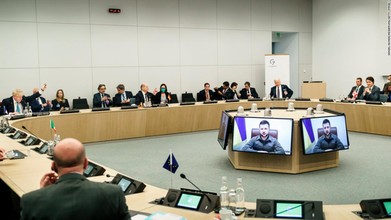 By Opinion by Michael Bociurkiw
CNN
March 26, 2022
Lviv, Ukraine (CNN)In a grinding war such as the one in Ukraine, one learns how to read subtle changes in the public mood. So it was on Thursday — one month since Russian forces invaded and just as NATO leaders pledged continued support to Ukraine — that I spotted outside my apartment windows, on the edges of Lviv's old city, construction workers in high-visibility jackets and tall yellow ladders busily boarding up the neighboring church's magnificent stained glass windows.
It's a scene that's being replayed across this UNESCO world heritage city, from schools to shopfronts and government buildings.
It is also a clear sign that Ukrainians are digging in for the long haul.