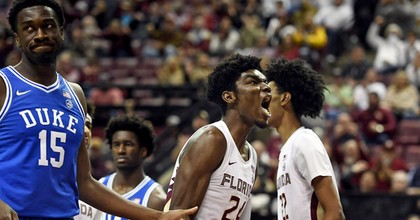 By BrettNevitt
Tomahawk Nation
January 20, 2022
Tallahassee, FL- Florida State basketball upset the No. 5 Duke Blue Devils 79-78 on Tuesday night at the Tucker Center in a thrilling overtime game. The Seminoles have won four straight games. The Tucker Center Magic lives on. Mike Krzyzewski is walking out of the Tucker Center for the final time with a loss. In a game with 19 lead changes, the Seminoles prevailed over No. 5 Blue Devils. Florida State has won 13 overtime games in a row, extending the longest streak in D1 history.
The win gives Leonard Hamilton 55 wins over top 25 teams when unranked. That is the most by any coach in the AP Poll Era. New blood.
The Blue Devils got off to a hot start from the field as they made three of their first four shots. But the 'Noles were able to create havoc to slow down the Blue Devils. FSU forced three Duke turnovers in a span of 2:36, which led to a scoring drought of nearly four minutes. A triple from John Butler and an and-one by Naheem McLeod knotted the game at eight at the first media timeout.