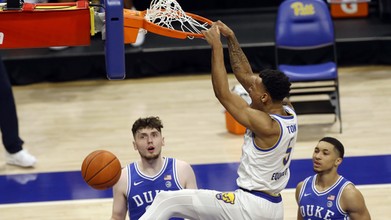 USA TODAY
January 20, 2021
PITTSBURGH — Justin Champagnie tied a career-high 31 points on 12-for-15 shooting and grabbed 14 rebounds, and Pittsburgh held off Duke for a 79-73 win on Tuesday night.
It was the fifth 20-plus point, 10-plus rebound effort for the sophomore Champagnie in just his eighth game of the season for the Panthers (8-2, 4-1 Atlantic Coast Conference).
Au'Diese Toney scored 13 of his 22 points from the foul line and had 11 rebounds for Pitt. Xavier Johnson added nine points and a career-high 11 assists.