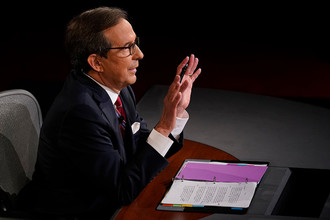 By Kelsey Tamborrino
POLITICO
October 4, 2020
A senior campaign adviser to President Donald Trump accused "Fox News Sunday" host Chris Wallace of not being a neutral moderator during last week's presidential debate.
"He had to debate not just Joe Biden, but you as well. You were not a neutral moderator then," said Steve Cortes, a senior adviser for the Trump campaign, on Sunday.
In a back-and-forth on "Fox News Sunday" over the first family and White House chief of staff Mark Meadows' decision to not wear masks during the debate, Wallace said the rules from the Cleveland Clinic "could not have been more clear" that everyone in the audience had to wear a mask.