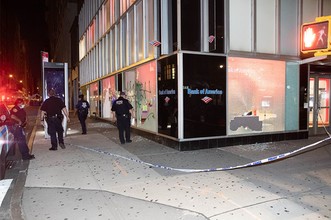 By Larry Celona and Vincent Barone
NY Post
September 6, 2020
Eight people were arrested Friday night when a group of 150 Black Lives Matter protesters smashed windows and graffitied the storefronts of Lower Manhattan chain stores and banks, police sources said.
At least two Starbucks, five banks and a Duane Reade had their windows busted, causing an estimated $100,000 in damage.
Police recovered two stun guns, smoke grenades, and burglary and graffiti tools.