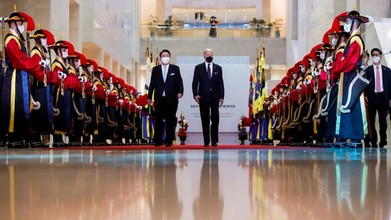 By Jeremy Diamond,Kevin Liptak
CNN
May 21, 2022
President Joe Biden did not sound Saturday like he was expecting any "love letters" from Kim Jong Un — he can't even get a response to an offer of coronavirus vaccines as the hermit kingdom is hit by its first major Covid-19 outbreak.
And during a news conference here Saturday, he did not sound particularly eager for a handshake with the North Korean despot.
"That would depend on whether he's sincere and whether he's serious," Biden said when asked whether he'd be willing to meet Kim.