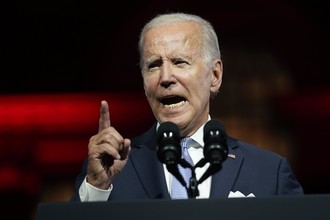 AP NEWS
September 2, 2022
PHILADELPHIA (AP) — President Joe Biden charged in a prime-time address that the "extreme ideology" of Donald Trump and his adherents "threatens the very foundation of our republic," as he summoned Americans of all stripes to help counter what he sketched as dark forces within the Republican Party trying to subvert democracy.
In his speech Thursday at Philadelphia's Independence Hall, Biden unleashed the trappings of the presidency in an unusually strong and sweeping indictment of Trump and what he said has become the dominant strain of the opposition party. His broadside came barely two months before Americans head to the polls in bitterly contested midterm elections that Biden calls a crossroads for the nation.
"Too much of what's happening in our country today is not normal," he said before an audience of hundreds, raising his voice over pro-Trump hecklers outside the building where the nation's founding was debated. He said he wasn't condemning the 74 million people who voted for Trump in 2020, but added, "There's no question that the Republican Party today is dominated by Donald Trump and the MAGA Republicans," using the acronym for Trump's "Make America Great Again" campaign slogan.