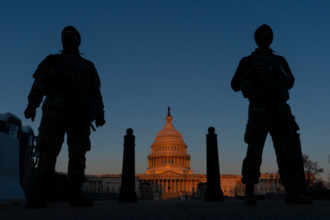 By Kyle Cheney
POLITICO
November 24, 2021
A Broadway actor and Michael Jackson impersonator starring as Judas in a traveling performance of "Jesus Christ Superstar" joined the Oath Keepers who breached the Capitol on Jan. 6, prosecutors alleged Tuesday.
James Beeks, 49, who goes by the stage name James T. Justis, was still performing as of this month before his arrest Tuesday. Federal investigators "observed" two of his November shows in Los Angeles and San Francisco. Prosecutors say he joined a dozen Oath Keepers in a so-called stack formation to enter the Capitol just as the riot was escalating.
Beeks' involvement is an odd twist in an sprawling case against the anti-government extremist group. About 20 defendants are already facing charges in the case, one of the most significant brought by prosecutors against the 700-plus defendants who breached the Capitol.