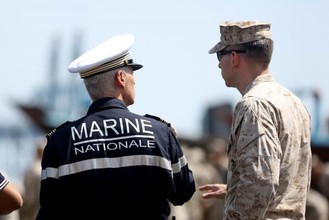 CNBC
May 13, 2021
An active-duty U.S. Marine officer has been arrested and charged with participating in the invasion of the U.S. Capitol on Jan. 6 by a mob of supporters of then-President Donald Trump.
The 40-year-old officer, Major Christopher Warnagiris, is accused of pushing his way past a line of police protecting the Capitol and forcing his way through a doorway in the East Rotunda of the Capitol.
Warnagiris, of Woodbridge, Virginia, is charged in federal court with assaulting, resisting or impeding certain officers. He will make his initial court appearance Thursday in U.S. District Court for the Eastern District of Virginia.