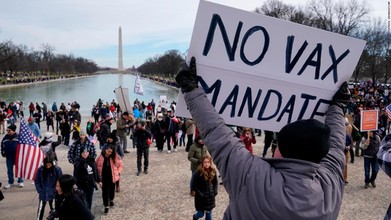 By Tierney Sneed
CNN
April 8, 2022
(CNN)The 5th US Circuit Court of Appeals on Thursday revived President Joe Biden's Covid-19 vaccine mandate for federal executive branch employees, lifting a district court's January injunction that had halted the requirement and ordering the lower court to dismiss the case.
The majority on a three-member panel said that under the Civil Service Reform Act — which Congress passed in 1978 to streamline the process of settling workplace disputes brought by federal employees — the lower court did not have jurisdiction to issue the injunction on the mandate.
The opinion was written by Clinton-appointed Judge Carl Stewart, who was joined by Judge James Stewart, another Clinton appointee. Circuit Judge Rhesa Hawkins Barksdale, an appointee of President George W. Bush, wrote a dissent disagreeing with the majority's interpretation of the CSRA.